My Story
Hey there! If you don't already know me, I'm Cathy Horvath Buchanan, I'm an artist/painter and I love creating bright, colorful artwork that helps you bring joy into your home and life.
Can we talk?...Don't be shy...but do you have....naked walls?.....Oh my goodness, there I said it. I know it's a bit embarrassing!!

Of course I'm kidding with you, but I'm also serious...but don't worry you're not the only one with a naked wall problem.

I walk with my husband a lot in the evening, especially since it gets dark so early during winters here in Canada. As I walk I catch wee glimpses of the walls in people's living rooms. I'm surprised how often they don't have anything hanging on their walls. I think there would be no bare walls if people knew how much having art enhances your living space.

Artwork can turn your house into a cozy home. I know this because I've spent most of my life making bright colorful paintings to turn your empty naked walls into a vibrant space that fills your life with daily joy.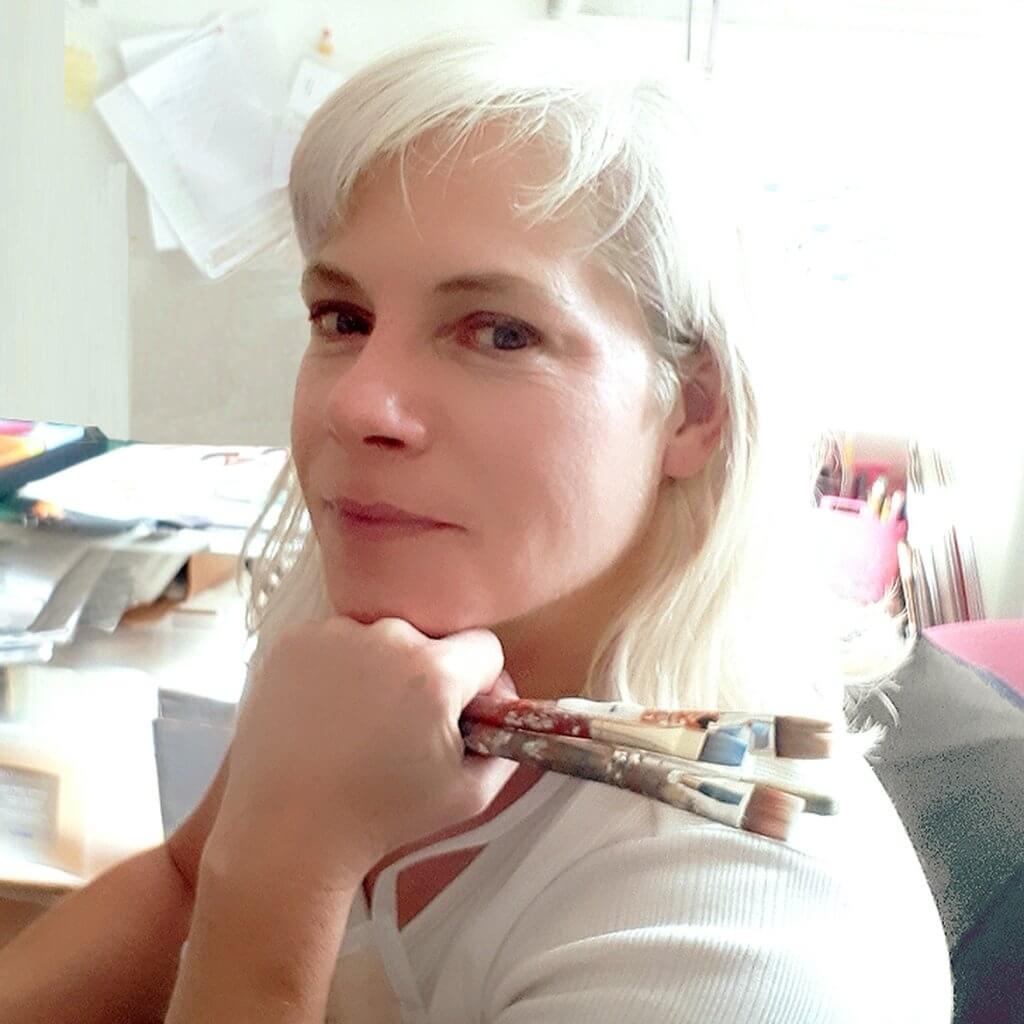 I believe...
You deserve to have a home that is a sanctuary. A special place you create to nurture your heart, home, and soul. I believe your place should be cheerful, cozy and filled with beauty and color. All the art I make is in service of these beliefs.
My own home and sanctuary is with my husband, Shawn in Port Stanley, Canada. It's a charming fishing village on the shores of Lake Erie, which luckily has a thriving, supportive arts community that I love!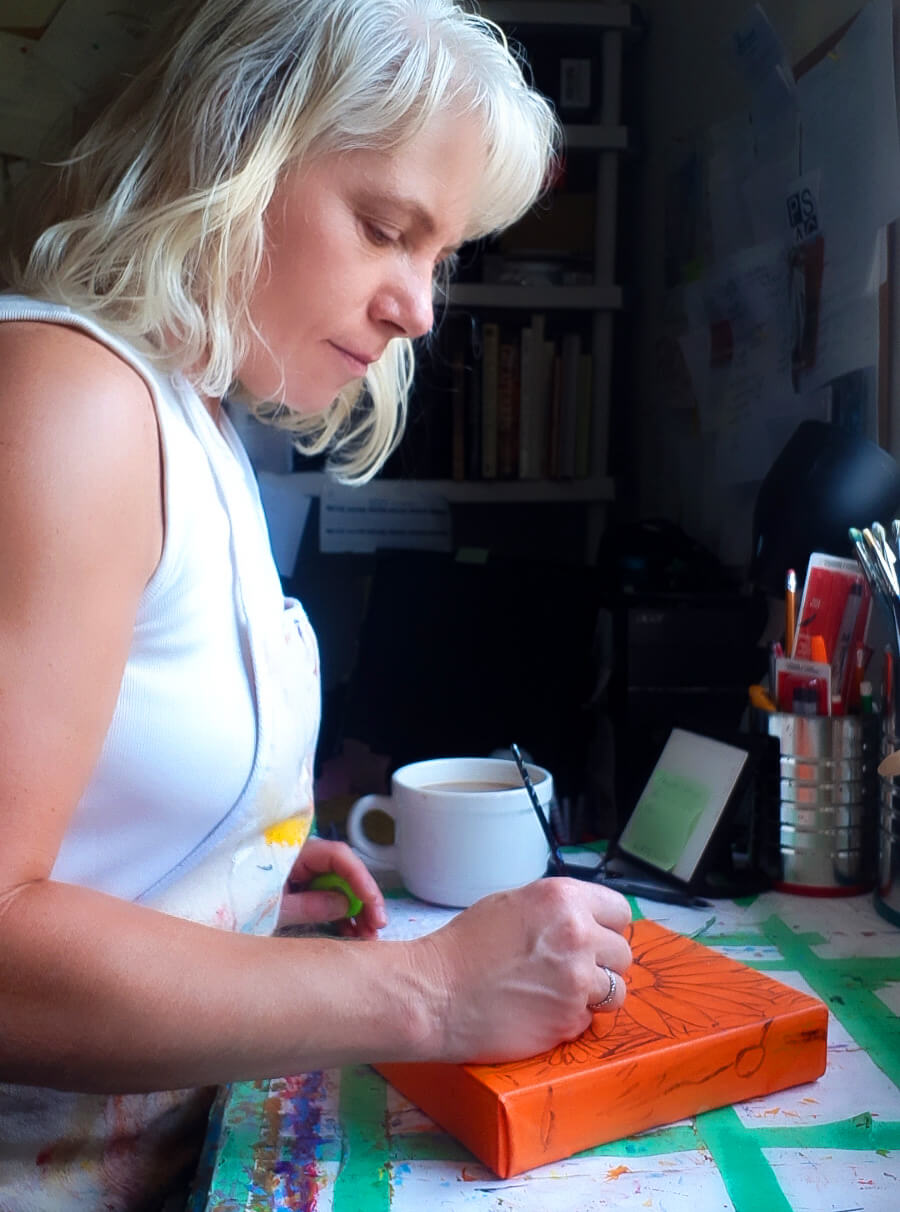 The journey...
I started making art as a kid, as we all do when we're children because we are free to express whatever is in our little heads.
I didn't really plan on being an artist, it was just always who I was and what I did.
I grew up in the country, so I spent many summers on my own since friends lived further than a bike ride away.
During that time I loved putting pencil to paper and being delightfully surprised when what I created actually looked like the thing.
That natural drawing ability absorbed my formative years as I obsessively observed objects, fields, flowers, farm buildings, animals, birds, the sky, everything in my line of sight... trying to figure out how to realistically capture and convey their essence.
I also went to the library (pre-internet) and repeatedly took out art books on my fav artists, Lauren Harris, Tom Thomson, Andrew Wyeth, Georgia O'keeffe, and Emily Carr, to name a few.
As I grew older my desire to somehow turn my love of creating into full time occupation led me to art school. After 3 years I graduated, with my diploma and paintbrush in hand I went out into the world to make art to put in galleries.
It didn't take long to discover the artist's path isn't easy...
Changing styles...
From serious & realistic...

The work I created just out of art school was very realistic using muted grey tones to convey lonely bleak landscapes. I sold this work through local art galleries, but not at a sustainable rate. Like many artists, I also became a graphic designer to make ends meet.

...to bright & colorful!

I enjoyed designing, and the colorful graphics I was hired to produce slowly turned my aesthetic towards creating more boldly colorful, eye-catching artwork, which actually suited my personality much more than the sombre greys.
"Art enables us to find ourselves and lose ourselves at the same time."
―Thomas Merton
Selling Art Online
In 2004 I started selling my art online. Having access to the world through the internet brought my artwork to a whole new audience of collectors.

My style continued to change as I let go of the dark mood evoked by my bleak realism. I was feeling more optimistic and the style I was forming reflected that, gravitating towards bright expressive colours.

This newer work was more joyful and had a sense of happiness which resonated with people and translated into enough sales that allowed it me to continue painting. I started experimenting and creating new work every day and each painting taught me more about the act of painting, honing my inner vision. Collectors started commissioning me to create custom artwork because of my unique style.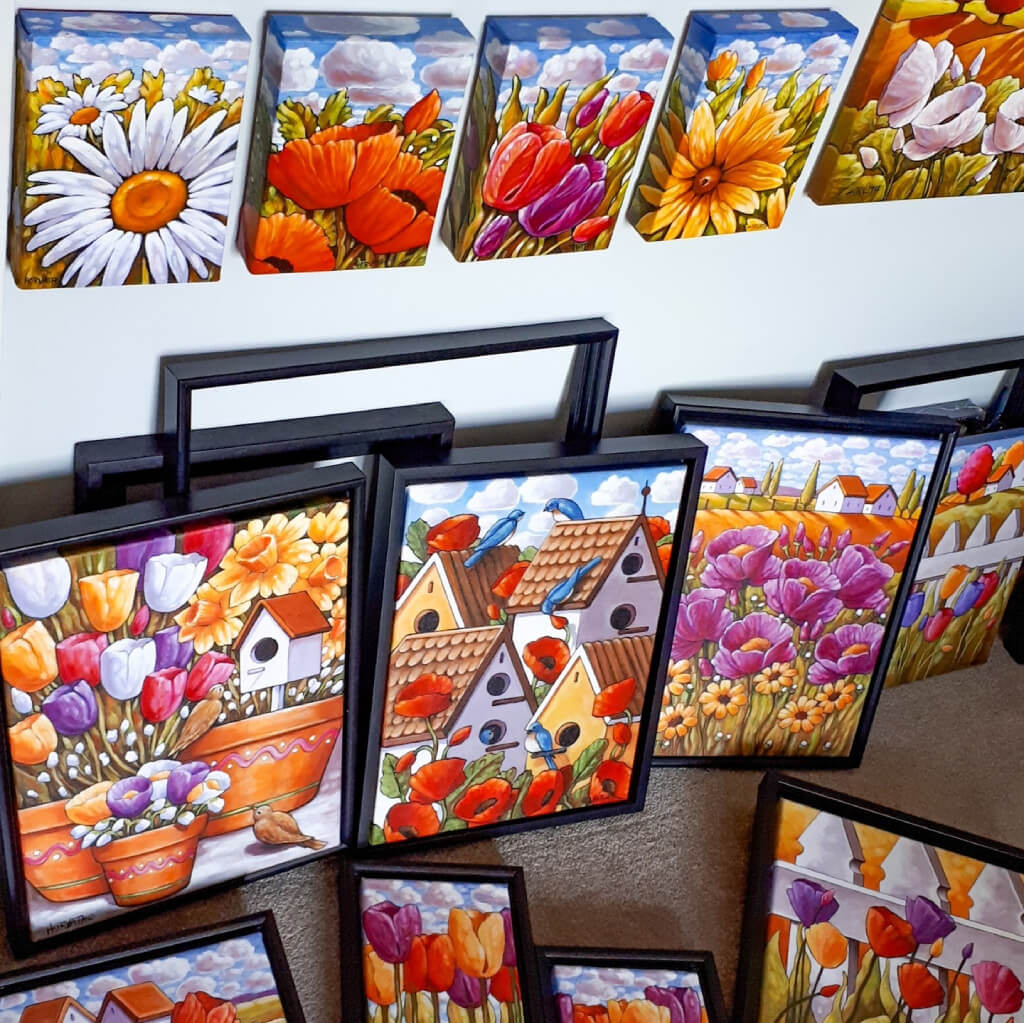 Painting ideas...
The ideas for my paintings are inspired by what I see in the real world, but are informed by my years of realistic painting, filtered through my artistic vision.
When I'm in the studio painting, images often come directly from my imagination, the elements and composition taken from my expansive library of mental images acquired from a lifetime spent looking.
Many times the places depicted in my paintings are not real... they are my flights of fancy, a way to transport myself through painting to some other wonderful happy place.
Making memories...
When I'm out in the world I continually make mental notes of what I see. It's a skill that I actively cultivate. Being consciously present and in the moment makes it possible to memorize what you see and feel.
Everyone can do this, it just takes time and patience. I try to memorize things like…. the way the sun highlights a large fluffy cloud... or the interesting shadow cast by a leafless spring tree like tendrils across the ground... or how the waves at the lake froth from the dark water into whitecaps then roll in to break on the beach. I think of this as 'seeing' with artist's eyes.
All of these impressions are like puzzle pieces that I squirrel away in my memory so that I can put them together later when I'm back home in my studio.
I think a beautifully conveyed image is a joy to create, but it's even more joyful to share it with others to enhance their daily life. 
That is my goal as an artist.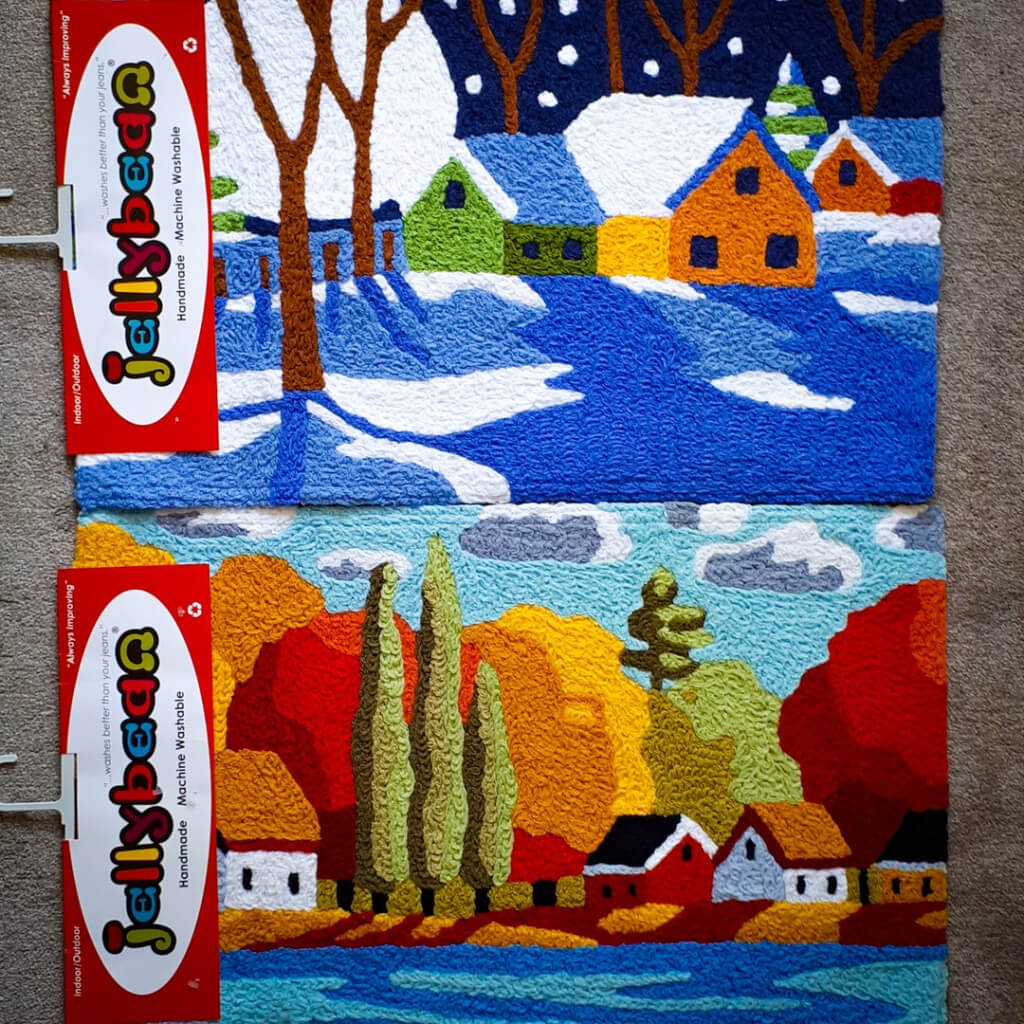 Licensing
My online presence has brought me various opportunities including art licensing. I've been fortunate to be represented over the years by Montage Licensing, MGL Licensing, and currently  ArtLicensing.com 
I'm delighted to have had my art featured on flags, rugs, a calendar, needlepoint, crystal art kits, cards and in many print houses. Hopefully, you'll see even more of my art on products in the future. 
See LICENSING for more information on licensing with me.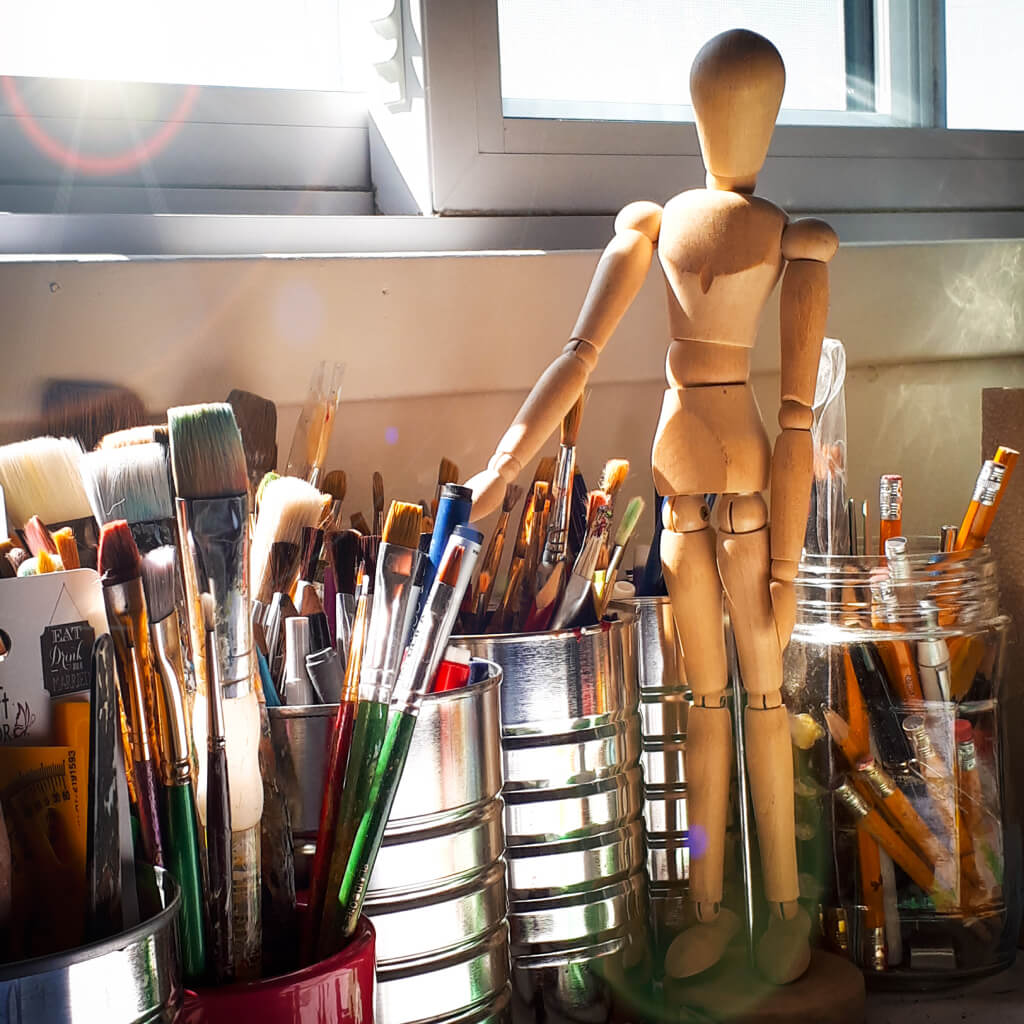 And so the story continues ....
Moving forward I'm always looking for ways to expand what I have to offer you. I now have art cards, seasonal downloads,  coloring pages, and art printables and more!
Of course I still offer original paintings and prints of various sizes, but did you know I also offer the option of custom paintings.
Pop on over to the CUSTOM ART page for more details on how the process works.
Please stay tuned to see what happens next....I'm really excited to have you along for the ride!

Be sure to go check out the rest of my online studio store to see all the original paintings and prints, cards and more available for you to enjoy.

Down with naked walls! Up with bright colorful art that brings joy to your heart, home and soul!!!

Cheers, Cathy : )
Join the Art Collectors Club!
Get early access to new art collections, freebies, discounts, studio news & more... all sent directly to your inbox for FREE... PLUS when you signup you'll get a 10%OFF COUPON CODE